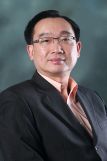 Founder,
Geomancer &
Professional Chinese Metaphysics Trainer

Master Andrew Tan is a University graduate, holding a Bachelor of Business from RMIT.

Master Andrew Tan has been practising Feng Shui for almost twenty years. With his vast Feng Shui knowledge and experience, he has presented numerous seminars and talks to real estate companies like Savills, DTZ, ERA, PropNex, OrangeTee, Roof, Huttons, C&H, Century21 etc; local and multinational companies, associations and clubs.

Master Andrew Tan has studied Chinese Metaphysics under various Grand Masters in Taiwan and Hong Kong. His deep interest in the research of ancient China manuals and Chinese childhood education make his studies possible.

He takes up the challenge to apply the ancient Chinese Metaphysics in the current modern society and eliminate the superstitious beliefs and wrong applications of Feng Shui by emphasize on the management of environmental Qi.

While compiling the various Feng Shui Schools of thoughts, Master Andrew Tan has decided to form a training school to impart his Feng Shui knowledge that he has gathered and execute them in the related fields. He believes that others also should have the chance to master Feng Shui which he has mastered.
Therefore, he founded "School of Chinese Metaphysics" previously know as "FengShui BaZi Centre" since 2005.

In pursuit of harmony living for everyone, Master Andrew Tan is always keen to share and promote the Art and Science of Feng Shui to the general public. Master Andrew Tan's teaching and research interests render him to conduct numerous classes in Singapore and Malaysia.

Master Andrew Tan is today an established trainer in the Chinese Metaphysics.